WHAT I OFFER
MY METHODS
An energizing "follow along" dance-cardio work out, is for absolutely everyone. With aerobics-style moves to get your heart rate up, your energy will be lifted, whilst strengthening and toning the whole body in this great fun-filled, sweaty, work out.

Added sculpt-exercises, slow down the pace to give you more and leave you feeling strong, lean and ready for more!
A low impact workout that will encourage your body's natural mobility and flexibility, and fire up the smaller muscles. This workout is a mix of standing and mat-based exercises that strengthen and tone for a stronger, leaner physique.

For all fitness levels, the exercises are performed slow and controlled, with the option to add light weights. With my ballet inspired moves: get ready!
Join in with The SLR LIFE creator LIVE in action! Her virtual classes will bring you a feel of community, encouragement and discipline. This is such a great way to get your calendar set up with the live class schedules and really amp up your fitness regime.

The SLR LIFE will be right there with you leading you through Sarah's signature workouts; Dance Body Tone and Body Tone. You will get a personal training feel with support and fitness form corrections that will help you to become THE BEST FITTEST VERSION OF YOU!
ABOUT
SARAH LOUISE RECTOR
Sarah has been gracing the fitness world in Los Angeles since 2016. Starting out teaching group fitness classes at a high end boutique fitness studio modelFIT and continuing to forward her extremely popular workouts with The SLR Life classes at studioB Bandier and DailyOM online.

As well as personal training clients in person or through virtual training Sarah loves to educate and encourage her clients by carefully adapting the workouts to each individual leading them to be the best versions of themselves! You can also find Sarah guest teaching at various Fitness events around California and previously been connected with brands such as: Popsugar, Propel Water, The Thirty and Nordstrom x Sweaty Betty to name a few.
LEARN MORE ABOUT SARAH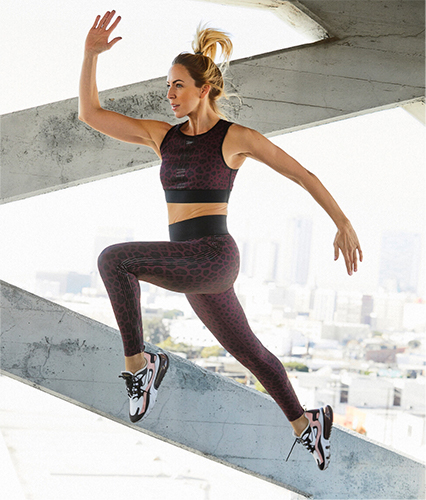 TESTIMONIALS
"Her unique sculpting technique has tightened my core, glutes, and arms. I now have arm muscles from her weight training, abs and obliques from her compound exercises and leaner legs from dance cardio.
Sarah's professional attitude and warm persona makes you coming back for more. I love a challenge and Sarah challenges me in a safe & efficient way."
—Jaqueline
"Sarah is a fitness trainer you will want to train with consistently for so many reasons! I've always enjoyed her positive energy and intense workouts but really stepped it up in the months before my wedding. We trained 2-4 times a week together, and I saw results fast! What's so awesome about the SLR method is that it's designed to sculpt long and lean muscles, concentrating on small movements with high repetition. The sessions we spend together fly by because the workouts are challenging, fun and also therapeutic: Sarah always knows exactly what to say to give you the confidence to keep going and achieve your goals."
—Diedre
"Her high energy, keen eye for precision and dynamic workouts keep you engaged and challenged. Every workout feels like a brand new one.
As a new mom, small business owner and surgeon, I have very little "me" time, so my workouts have to be concise and effective. "
—Joanna
SEE MORE TESTIMONIALS
AS SEEN IN